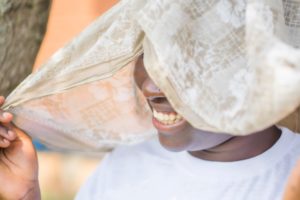 When Shadia tells her story, she begins with that fateful evening her trafficker sold her a lie.
She would travel from Uganda to Oman to work as a domestic helper. There, she would earn good wage that would transform her family's future forever.
With hopes and dreams in her heart, Shadia left her children in her mother's care, and boarded the plane bound for Muscat, Oman.
But Shadia soon found herself worked to the bone as she served her employer's family from 5am until midnight every day. Along with sustained sleep deprivation, Shadia suffered emotional and verbal abuse at the hands of her employer.
Held captive physically and psychologically, Shadia lost all hope. One evening, she considered taking her own life, but the thought of leaving her three children without a support system stopped her.
Months later, Shadia managed to escape her traffickers. But with nowhere to go, she lived on the streets of Muscat until she was found by EverFree's partner organization in Oman and repatriated to Uganda.
Shadia vividly remembers her flight back home in November 2020. She was filled with a flood of mixed emotions.
"My bank account was empty," she says. "I was left with nothing."
When she arrived in Uganda, Shadia immediately received care and support from EverFree. And, over the next year, she received counselling, medical care, skill-building training, and economic empowerment services.
"I have learned to get out of my comfort zone," Shadia says. "I can now use my money profitably, save and reinvest for my business to grow. I used to think I was cursed since many bad things happened to me. I used to worry all the time and looked down on myself. But after my experience with EverFree's Willow, I now see a very bright, unlimited future ahead of me."