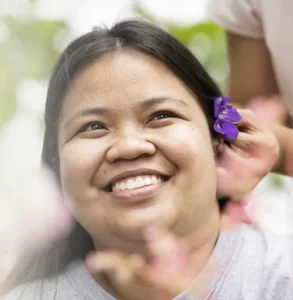 Growing up with five older brothers in the Philippines, Aina* looked up to her older cousin who was like a sister. Aina was impressed by her cousin's interesting career at a local IT company and grateful for the help she often gave with her homework. Aina aspired to be just like her—educated and successful in life.
So when her cousin asked for a favor in return for all the help she'd given over the years, Aina obliged. But the favor was insidious and at just 15 years old, Aina was blindsided, betrayed, and coerced into online sexual exploitation by her cousin. Aina was trafficked by a close family member she trusted.
Fortunately, her cousin's exploitative activities were soon detected by the local police. Along with many other young girls, Aina was safely removed from exploitation, and introduced to EverFree.
With EverFree's support, Aina received holistic care and was empowered to complete job-readiness training and win an education scholarship. Aina has dedicated herself to her studies with a hunger to learn and a deep motivation for her future. Even with pandemic disruptions and the devastating typhoon that hit the Philippines in December 2021, Aina prevailed.
Recently, Aina proudly completed her first semester of 12th grade with honors and has big plans for her future to help other children like her:
"The pain taught me that a big and bright future awaits me. I hope to finish my studies and fulfill my dream to be a social worker. The future I see is bright."
*name and image have been changed to protect the survivor's privacy